Christians Persecuted: Young Sisters Strangled in Pakistan. Former Imam converted in Uganda Killed
by Fabio Giuseppe Carlo Carisio
Versione originale in Italiano
Killed only because they were Christians. This is the terrible fate of two young sisters in Pakistan who refused to convert to Islam after the constant sexual harassment of some work colleagues. They were kidnapped, handcuffed and strangled in cold blood. A former Muslim imam from Uganda who recently converted to Christianity also suffered the same fate: assassinated only for choosing a religion that the local Muslims do not like.
These murders are particularly disturbing because they were carried out with scientific premeditation and not with instinctual brutality. Their deaths occurred in recent weeks but the cases have emerged only today also due to the embarrassment of the local authorities who do not always actively collaborate in the investigation of the crimes both in Pakistan, where the scourge of Christian girls kidnapped, raped and forced converting to marry Muslims is rampant, but also in Africa where law enforcement officers often do not want to meddle in local rivalries that go beyond religious aspects such as in Nigeria, where the clash between Muslim Fulani shepherds and Christian farmers is taking place.
CHRISTIAN TEENS ABDUCTED – RAPED BY MUSLIMS. Maira Filmed during Abuses for Blackmail. Huma: Arrest Warrant for Kidnappers
Last December the International Society for Civil Liberties & the Rule of Law (Intersociety), a non-profit NGO, released a chilling report on the religious situation in this African nation.
"In the course of the year that has just ended, at least 2,200 Christians have been killed throughout Nigeria by Boko Haram and the Fulani militants. Going into detail, "of this figure – reads the report – the Fulani Herdsmen are responsible for about 1,300 deaths, followed by Boko Haram and its splinter groups (ISWAP and Ansaru) with 500 deaths" – wrote Federico Giuliani on InsideOver – Following are 200 deaths caused by the Nigerian army and another 100 by jihadists generically defined as "bandits". Calculator in hand, always considering only the recorded deaths, Nigeria in 2020 lost an average of six Christians a day, for a total of 180 per month".
Jihadist demons spree: 11 Christians beheaded in Nigeria. Blast-massacre of students in Mogadishu: 90 dead
And, precisely because of their religion, 100,000 Christians have been killed in the last 20 years, half of which (43,242 to be exact) following terrorist attacks in Boko Haram, Islamic State and al Quaida. Following are 18,834 victims caused by the usual Fulani and 34,233 by other armed groups.
The case of the two young sisters strangled in Pakistan has aroused the indignation of society by inducing the police to intervene promptly with the arrest of the alleged suspects, as reported by the Fides agency of the Pontifical Mission Societies. While the story of the Muslim killed in Uganda after his conversion was only reported on the Persecution website of the evangelical association International Christian Concern.
---
Christian Sisters in Pakistan Found Murdered
by International Christian Concern on 1-12-2020
Local reports in Pakistan claim two Christian women were found murdered in the Kahna neighborhood of Lahore after disappearing in November 2020. The family of the deceased claims the women were harassed by Muslim coworkers prior to their disappearance and murder. The family of Abida Bibi, age 23, and her sister Sajida, age 25, claims the sisters were abducted after months of harassment from two Muslim coworkers. (The girls have the same surname of Asia Bibi, the christian mother imprisoned for years due to a unfounded charge of blasphemy but they weren't relatives – ed).
"They often complained about being harassed by two Muslim coworkers," Rani Bibi, the sisters' mother, told International Christian Concern (ICC). "However, I asked them to ignore the harassment and continue their jobs. I was worried that they might lose their jobs if they complained to the administration against Muhammad Naeem and Muhammad Mumtaz, the kidnappers and killers."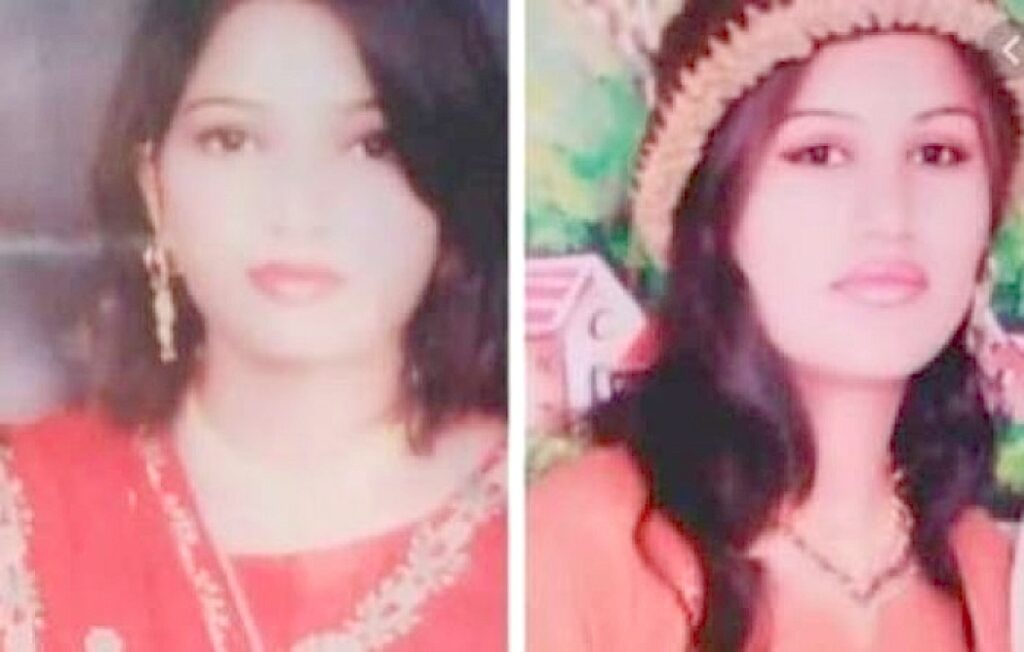 On November 26, both Abida and Sajida disappeared while shopping together. The family reported the disappearance to police and claimed the girls were abducted by the men who were harassing them at work. According to the family, the police did not take any action to recover the missing women. On December 11, the body of Sajida was found with her throat slit in a sewerage tunnel. On January 4, the body of Abida was found floating in another drain. Both bodies show marks of being strangled and handcuffed. Police have arrested Muhammad Naeem and Muhammad Mumtaz in connection with the murders.
Appeal to Pope for Huma Younas, 14yo Christian girl abducted by a Muslim and forcibly converted to Islam for marriage
According to a study by the Movement for Solidarity and Peace Pakistan, an estimated 1,000 Christian and Hindu women are abducted, forcefully married, and forcefully converted to Islam every year. Many of the victims are minors. Sexual assaults and fraudulent marriages are used by perpetrators to entrap victims and authorities are often complicit.
The issue of religion is injected into cases of sexual assault to place victims from religious minority communities at a disadvantage. Playing upon religious biases, perpetrators know they can cover up and justify their crimes by introducing an element of religion.
---
Former Imam converted Christian in Uganda Killed
by International Christian Concern on 1-11-2020
Yusuf Kintu, a 41-year-old former Imam of Macca Mosque in Dolwe Island, Mayuge District was killed on December 7, 2020 by a Muslims mob. This attack came just a week after Yusuf converted to Christianity. According to Pastor Andrew Nyanma of the Full Gospel church Dolwe, Yusuf had put his faith in Christ on 30th November 2020 after hearing the gospel message.
He said, "We had been talking on several occasions but he was so argumentative when we touched on matters related to faith. He was a brilliant Muslim Imam but also respected other people's faith. On this day, he was calm and receptive. He gave me humble time to explain to him why Christ is the only way to the Father. He repented of his sins and committed to following Christ."
Yusuf and his family were living in a house close to the Mosque where he was an Imam. Three days after he got saved, his wife Hashfa divorced him and left with two of their young children to her father's home in Bugiri District. She left behind the two older children, Abudkriim 19, and Sauda 16.
CHRISTIAN HOLOCAUST: Tragedies, names, faces among 2983 martyrs in 2019. Massacres raised
ICC's partner in Uganda said, "According to several witnesses, the local Muslim community was upset in Yusuf for leaving Islam and becoming a Christian. Yusuf was seriously beaten and left unconscious. His older son and daughter were not able to help him immediately, until morning when Pastor Andrew arrived and took him to the hospital." He later died while receiving care at the hospital.
Uganda is not known for hatred of Christianity, however, it is becoming much more common among Muslim majority communities. Many new Christians suffer at the hands of their families and former friends due to conversion. Yusuf is one of the few who is actually killed, but many suffer loss of livelihoods, family, homes, and property. Please pray for Yusuf's family and those that attacked him. Pray that his witness might soften the hearts of those who hated him in the end.
(Visited 433 times, 1 visits today)