Protests against COVID Restrictions in Austria and European Capitals. Meanwhile Top EU ministers in Quarantine over positive Covid test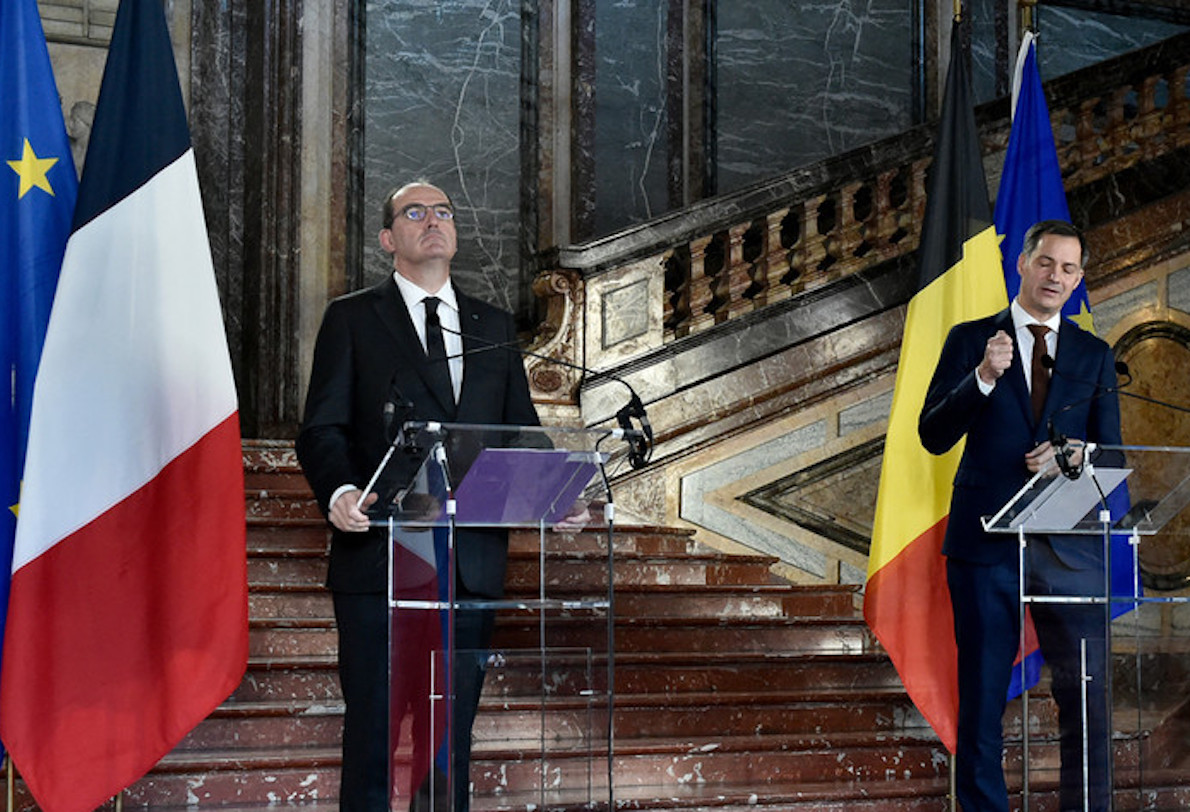 On the cover French Prime Minister Jean Castex (left) tested positive for Covid-19 and Belgium PM Alexander De Croo (right), self-quarantined as a precaution as well
On Sunday, an estimated 35,000 people took to the streets of Brussels, Belgium, to protest tighter lockdown measures and mask enforcement, as well as existing restrictions barring the unvaccinated from nightclubs, bars, and restaurants.
Protests against other COVID restrictions have been springing up recently in many other European countries, such as Belgium, the Netherlands, Switzerland, Croatia, Italy and Northern Ireland.
3 MILIARDI DI EURO PER I VACCINI DI FIGLIUOLO: INUTILI CONTRO I CONTAGI! Coprifuoco a Ortisei (Val Gardena) prima della Stagione Sciistica
On Friday, Austria became the first Western country to mandate that all citizens receive a COVID shot. Austrians have been given a vaccination deadline of February 1. They can be fined up to 3,600 Euros (roughly $4,000) or receive a 4-week prison sentence if numbers found in a draft bill for health professionals are applied to the entire population.
Austrian Chancellor Alexander Schallenberg also announced the country would enter a full lockdown beginning Monday, to continue for a maximum of 20 days. All of its residents, vaccinated and unvaccinated alike, are legally permitted to leave home only for "essential" activities, including work, exercise, and grocery shopping.
​​Austria's Health Minister Wolfgang Mückstein likened the measures to a "sledgehammer" in an interview on Sunday night: "A lockdown, a relatively tough method, a sledgehammer, is the only option to reduce the numbers (of infections) here."
Austria Becomes World's First Country to Impose COVID-19 Lockdown on Unvaccinated
"The Viennese demonstration was by far the biggest demonstration I've ever seen, and also historically one of the biggest demonstrations we ever had in Austria," Austrian activist Alexander Tschugguel told The Sun in a Monday interview.
"With confidence we can say that around 100,000 people, maybe even a little bit more, came to this demonstration. Austria is, as you know, a quite small country. We only have less than nine million inhabitants, and a hundred thousand people is really a huge number," he continued.
---
Top EU ministers in quarantine over positive Covid test
French Prime Minister Jean Castex has tested positive for Covid-19 after returning from a trip to Belgium. Five Belgian ministers, including PM Alexander De Croo, have self-quarantined as a precaution as well.
(Visited 286 times, 1 visits today)