Ukrainian Military Spokesman Transgender FIRED after Threats to Russian Journalists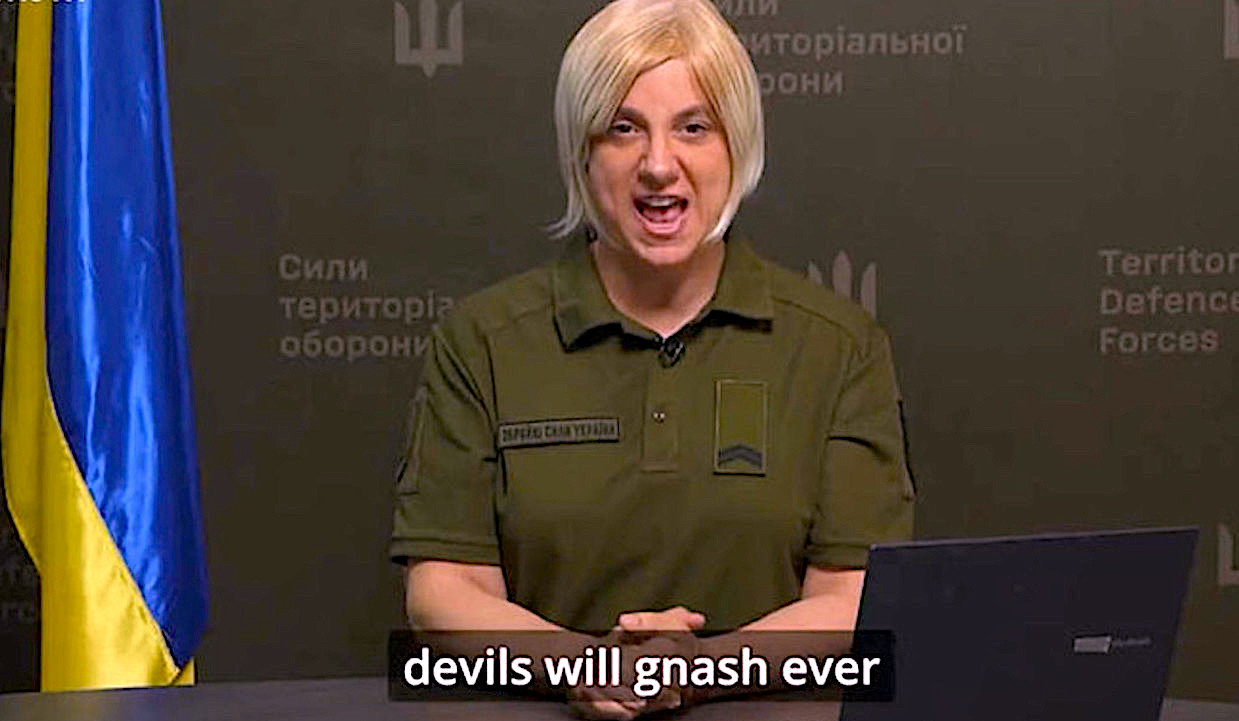 UPDATE ON SEPTEMBER, 20, 2023
Ukraine suspends death threat transgender military spokesperson
The Ukrainian Territorial Defense Forces has fired its transender American spokesperson for threatening a wave of assassinations against "Kremlin propagandists" around the world. Sarah Ashton-Cirillo's dramatic threat drew the attention of US Senator JD Vance, who asked the administration of President Joe Biden to explain if it was funding this content.
"The statements of [Junior Sergeant] Ashton-Cirillo in recent days were not approved by the command of the [Territorial Defense Forces] or the command of the [Armed Forces of Ukraine]," the Ukrainian Territorial Defense Forces said in a post on X (formerly Twitter) on Wednesday.
"Sergeant Sarah Ashton-Cirillo will be suspended immediately," the statement continued, adding that an official investigation would be launched into Ashton-Cirillo's conduct.
Catho-Dem Biden: Transgenders' Lover in Masonic Cult. Us President wants Them in Govt, Army and Female's Sports
Ashton-Cirillo is a biological man who worked as a Democratic Party activist in the US before moving to Ukraine following the start of Russia's military operation last year. He/she was hired as the Territorial Defense Forces' English-language spokesperson in August, a decision that critics say was intended to curry favor with pro-LGBTQ Western audiences.
---
ARTICLE POSTED ON SEPTEMBER, 15, 2023
Russian Journalists Threatened by Zelensky's "Military Daughter": a Spokesman TRANS!
Threats aimed at Russian journalists by Ukrainian military spokesperson, Sarah Ashton-Cirillo, will be referred to international organizations as an example of the terrorist nature of the Kiev regime, Moscow's Foreign Ministry spokeswoman Maria Zakharova has said.
On Wednesday, Ashton-Cirillo issued a threat to kill Russian "propagandists" and claimed that "next week, the teeth of the Russian devils will gnash even harder, and their rabid mouths will foam in uncontrollable frenzy as the world will see a favorite Kremlin propagandist pay for their crimes."
"Russia's war criminal propagandists will all be hunted down, and justice will be served as we in Ukraine are led on this mission by faith in God, liberty and complete liberation," the transgender military spokesperson pledged.
Russia: the Last True Bulwark of Christianity. LGBT Propaganda Prohibited to Protect Children against Gender Theory and Pedophilia
Russia responds to transgender Ukrainian official's death threats to journalists
"A zombie apocalypse," Zakharova wrote in response to the threat. "We will be sending this further evidence of the terrorist nature of the Kiev regime and its sponsorship by Washington to all international organizations and NGOs," she said.
The first deputy of the Russian State Duma's culture committee, Elena Drapenko, claimed Ashton-Cirillo's words were within the logic of the "terrorists and fascists" in Kiev and supported Zakharova's suggestion that the threat be referred to international institutions.
An American Neo-Nazi who Fought within Azov Battalion Avowes the Crimes of his Ukrainian 'colleagues'
"There are international conventions, there are obligations that Ukraine has assumed. We must demand that they be fulfilled," Drapenko said.
The head of Russia's Human Rights Council, Valery Fadeev, has also stated that he would contact the Investigative Committee and the Federal Security Service (FSB) to investigate the threats in light of the "sad experience" of previous assassination attempts on Russian journalists and public opinion leaders.
"Assassination attempt on Russian journalists shows Kiev's terrorist nature". The Villainous Western Weapon in the Zelensky's Hands vs Russia
Investigative Committee chairman Alexander Bastrykin has confirmed that he has already instructed his service to investigate and provide a legal assessment of Ashton-Cirillo's statements.
Meanwhile, Russia's Journalist Union (SJR) has cautioned that Ashton-Cirillo's threats may be quite real in light of previous terrorist attacks on Russian media representatives.
"It is probably pointless to talk about the moral qualities of representatives of the Kiev leadership. These threats should be taken seriously," said SJR president Vladimir Solovyov, urging fellow journalists to be careful.
Ukraine's Controversial Surrogacy Industry Booming! Disturbing International Reports
He added that he hoped Ashton-Cirillo would be appropriately punished as soon as they fall into the hands of Russian law enforcement agencies.
The first deputy chairman of the Duma Defense Committee, Alexei Zhuravlev, also noted that "Ukrainian terrorism is gradually degrading" and taking on an "increasingly uglier face" in the form of Ashton-Cirillo, whom he called a "pervert-satan."
Originally published by Russia Today
All links to previous Gospa News investigations have been added aftermath for the ties with the topics highlighted
---
GOSPA NEWS – WEAPONS LOBBY DOSSIER
Moscow: "Ukraine using Terror Attacks to Distract from Counteroffensive Failure"
Zelensky Servant of NATO and Satan! Not of Ukrainian People. Orthodox Bishop arrested before Easter. Another Esplosive Attack planned by Kiev
Six Long-range Russian Strikes wiped Ukrainian Intel Centers and Sea-drone Production Facilities
Religious War of Sata-Nazi Zelensky in Defiance to UN. Expulsion of 200 Orthodox Monks from Kiev-Pechersk Lavra Monastery
Zionist Zelensky Legitimized by West to Religious Persecutions despite UN Charlatan Resolutions: 61 Criminal Cases vs Orthodox in Kiev
Nobel Peace Prize 2022 to Kiev NGO Created by Soros & US for Ukrainian Coup. Funded also by EU Commission which Bought Arms for Zelensky
(Visited 504 times, 1 visits today)