Six Long-range Russian Strikes wiped Ukrainian Intel Centers and Sea-drone Production Facilities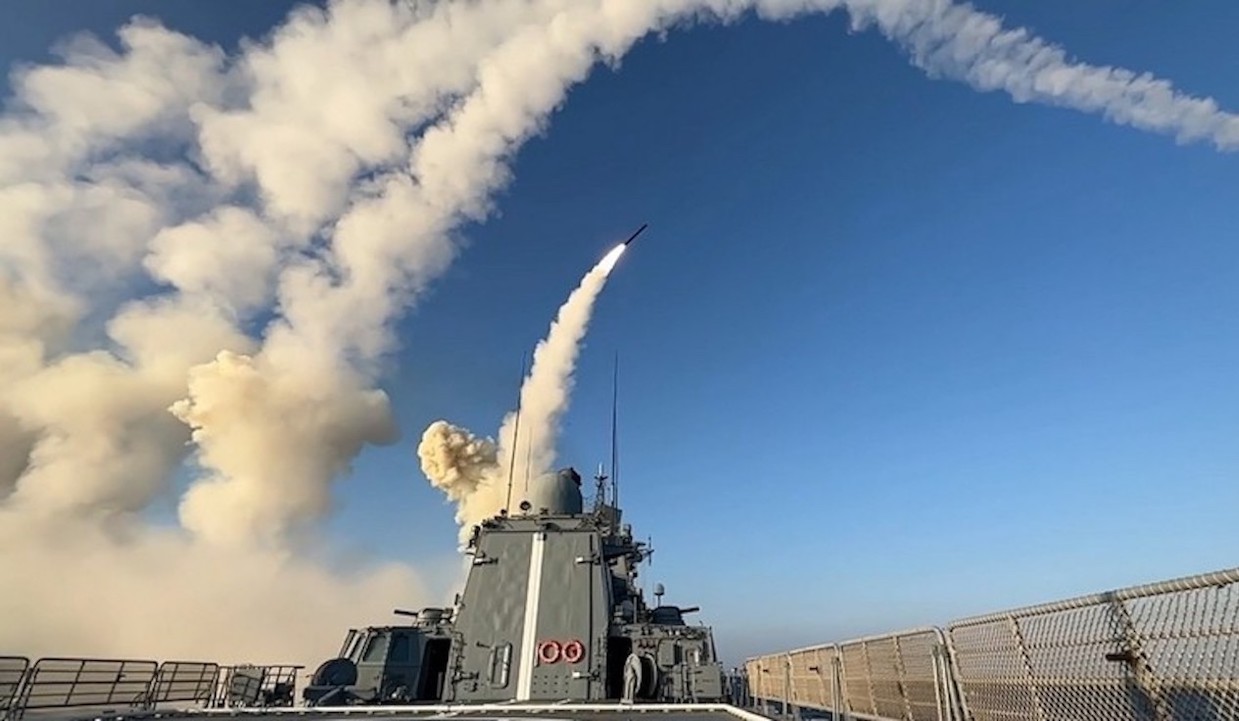 In the cover image a screenshot from an handout video grab released by the Russian Defense Ministry, a missile is launched from a Russian warship on October 14, 2022. © Sputnik
Several successive long-range attacks undermined Kiev's intelligence gathering and logistics capabilities, the Russian Defense Ministry has said
Russian forces have carried out strikes on a wide range of facilities underpinning Ukraine's military potential over the past week, including centers that provided training for saboteur and collaborationist units, the Defense Ministry in Moscow has said.
In a statement on Saturday, the ministry said that between September 2 and 9, Moscow conducted a total of six high-precision long-range group strikes on Ukrainian targets using both air- and sea-based assets as well as drones.
The attacks targeted Ukraine's signals intelligence facilities, port infrastructure, sea-drone production facilities, military warehouses and fuel depots, the ministry said, adding that they also hit "training bases of Ukrainian sabotage groups and terrorists from the so-called 'Russian Volunteer Corps'."
Undersecretary of Meloni's Italian Govt Eulogizes Azov Battalion's Ukraine NeoNazis. Far-Right is Really come Back in Rome?
The latter unit is made up of Russian nationals fighting for Ukraine with a penchant for neo-Nazi ideology, and has conducted a series of incursions into Russian regions in recent months, some of which have resulted in civilian casualties.
The ministry went on to add that the long-range strikes disrupted Ukraine's strategic signals intelligence efforts and undermined logistical support for Kiev's troops fighting in Russia's Kherson and Zaporozhye regions.
How Russia is Winning the Conflict protracted by NATO's Weapons with EU-US Citizens' Money. Last Ukrainian Military Ship Destroyed (video), UK Cruise Missiles Intercepted
Russian defense officials also noted that Black Sea Fleet ships operating near the Kerch Strait had detected and sunk three Ukrainian unmanned boats attempting to attack the Crimean Bridge. Kiev already used this type of weapon to damage the strategic infrastructure in mid-July. At the time, the explosion caused a partial collapse of the roadway and killed a married Russian couple, injuring their teenage daughter.
The ministry also said that over the course of the week Russian naval aircraft had destroyed four high-speed boats ferrying a Ukrainian assault force west of Crimea, comprised of up to 50 special ops troops.
Originally published by Russia Today
---
MAIN SOURCES
GOSPA NEWS – WEAPONS LOBBY DOSSIER
UKRAINE WAR: The NATO'S BLOODY SHOW must Go On! Cluster Bombs from US and €500 million from EU in Military Aid:
Odessa Ukrainian Centers that prepared Naval Drone Terrorist Attacks on Crimean Bridge Destroyed
With Hypersonic Missiles Russia can Win Ukraine Soon. That's why Putin doesn't Use them but ICC wants to Arrest him
NUCLEAR NIGHTMARES: Russia's longest-range Atomic Missile Sarmat into service. US to Send Depleted Uranium Ammo to Kiev
How Dragon 's Teeth Russian Defense Stopped NATO's Tanks in Ukraine Counteroffensive
(Visited 342 times, 1 visits today)