NATO Countries' Moves Towards WW3: US Long-Range Missiles to Kiev, UK Air Fighters over Black Sea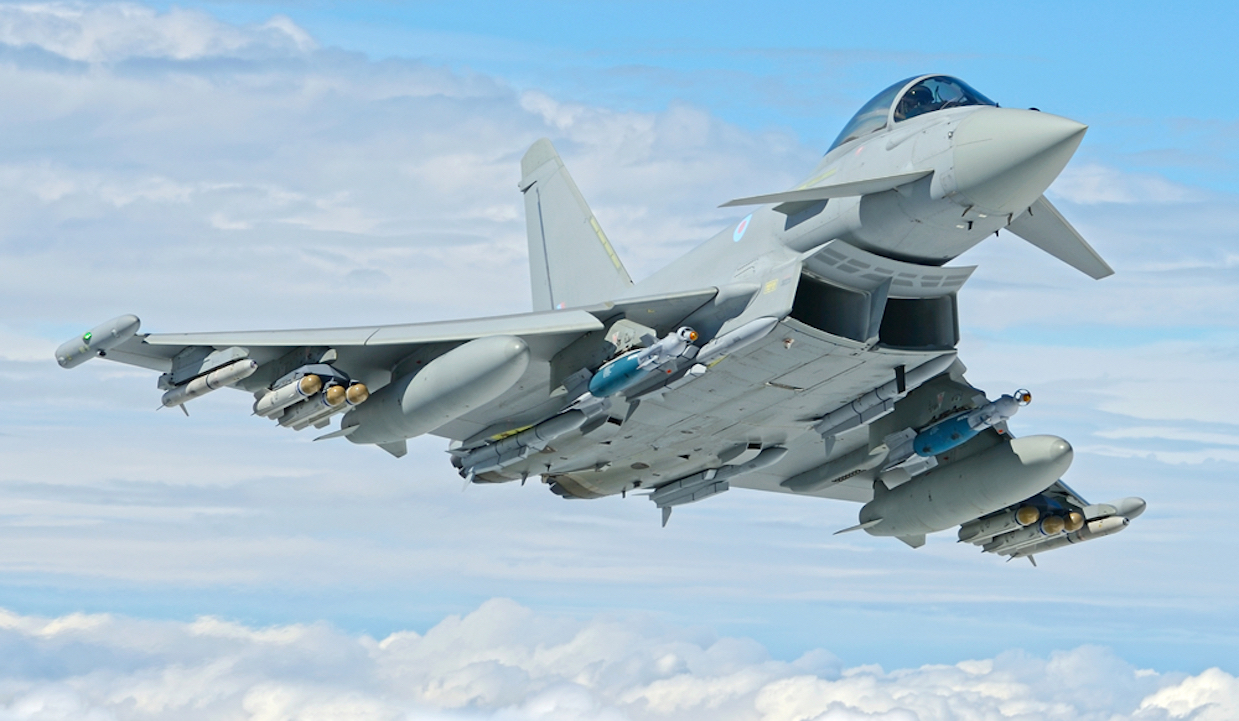 In the cover image Britain's Royal Air Force Eurofighter Typhoon
Introduction by Fabio Giuseppe Carlo Carisio
While Italians and Europeans in general, with the exception of those from the East and especially the Poles, are distracted by the usual sterile political controversies with which the mainstream media try to distract the now few thinking brains in Ukraine, a hellish autumn is looming which could easily degenerate into World War III due to two nations that would not have much to lose but much to gain in the case of an international conflict localized only in Europe.
With the latest count of 66 thousand soldiers of the Kiev Army killed during the long-awaited spring counteroffensive, which was powerful and strong only in the words of the tragicomic actor Volodymyr Zelensky who became president of Ukraine only because he was a Zionist and supported by the two criminals global George Soros and Bill Gates, and with the continuous fortifications in the regions annexed by Russia, the Ukrainian war beyond the Dnieper can be declared definitively lost.
How Dragon 's Teeth Russian Defense Stopped NATO's Tanks in Ukraine Counteroffensive
Therefore in the near future we can only expect a possible offensive by the Moscow army towards Odessa to close all access to the sea in Kiev.
Well aware of this military scenario, NATO and the main countries that lead it, namely the USA and the United Kingdom, should have seized on President Vladimir Putin's continuous proposals for negotiations towards peace, at the cost of politically removing President Zelensky or, in the case of his resistance, have him killed by some 007 with a license to kill as the Anglo-Saxon intelligence already did for Abraham Lincoln, JFK, RFK and Lady Diana…
Six Long-range Russian Strikes wiped Ukrainian Intel Centers and Sea-drone Production Facilities
Instead, London and Washington, which are doing gold deals thanks to the Weapons Lobby on the war in Ukraine (revenues which are then transformed into electoral financing for politicians who continue the conflict to the bitter end) have invented two moves that could be of no return in the spiral towards World War III or, or better to say, Atomic World War I.
As reported by Russia Today (details below) which, unlike Gospa News, does not allow itself to be tempted to insert opinions into international news articles, in fact the United Kingdom will send Royal Air Force fighter-bombers on reconnaissance on the Black Sea to protect the Ukrainian civilian ships they transport grain in violation of the Russian threat to prevent its transit after the non-renewal (due to Western fault) of the Black Sea Grain Deal in July.
WEAPONS LOBBY – 11. Huge Profits by NATO's Firms thanks to the Ukraine Devastating War against Peace. US Approval to Supply F-16
While the USA, after having decided to send the very dangerous depleted uranium munitions used in Bosnia, Kosovo, Afghanistan and Iraq with an ecological and human radioactive disaster, decided to change their decision and also supply Ukraine with the very powerful long range ATACMS that can be launched from HIMARS platforms already given by the British and Americans to Zelensky many months ago.
American President Joseph Biden, or rather the New World Order that governs in his place with the complicity of the Secretary of the Department of Defense Lloyd Austin, already a consultant to the arms industry Raytheon when he retired as a general of the US Army, has taken this terrible decision despite two very serious contraindications…
HIROSHIMA DAY: "Nuclear Shadow Looms over Globe Again" UN Secretary General said
The first is that they do not have a sufficient number to give the Ukrainian army firepower capable of countering the enormous missile arsenal of the Red Army.
So, fortunately for those who do not want an escalation, it risks being a media move only to convince the desperate Ukrainian population to commit suicide down to the last man as Zelensky, a NATO hitman and totally careless of his compatriots as befits a Zionist, wants moreover, an atheist like Soros
Zelensky Servant of NATO and Satan! Not of Ukrainian People. Orthodox Bishop arrested before Easter. Another Esplosive Attack planned by Kiev
The second, which according to Washington officials, supplying Kiev with missiles capable of hitting Russia and Moscow could trigger the Third World War.
In a previous article, in fact, we explained why the Tsar of Moscow Vladimir Putin has not decided to make massive use of Kinzhal hypersonic missiles or the thousands of old rockets which, not having the same precision, can cause devastating collateral damage in cities.
With Hypersonic Missiles Russia can Win Ukraine Soon. That's why Putin doesn't Use them but ICC wants to Arrest him
He did this for two reasons of profound humanity: because he is a true Christian (unlike Biden who swears on the Bible and appoints a transgender as undersecretary) and because he considers the Ukrainians descendants of the historical Rus his "brothers" as he declared since the famous speech on 22 February 2022 in which he explained that he wanted to militarily defend the pro-Russian separatist republics of Donbass torn apart by a massacre that began in February 2014 after the bloody coup in Kiev financed by Soros, the Americans, the British and other NATO countries.
Warning of Radioactive Disaster in Ukraine with "Depleted Uranium Ammo used by NATO only". Briefing by Russian Chief of Nuclear Troops
But it is equally true that Russia, a couple of years ago, approved a law that allows the use of nuclear weapons even in response to attacks on its territory with conventional missiles.
So far Putin has not applied this rule precisely so as not to devastate Ukraine and its population but also because, if he were to use them, he could only do so in Lviv, one of the furthest cities from Russia from where the fallout of nuclear radiation carried by the winds would be minor.
NUCLEAR NIGHTMARES: Russia's longest-range Atomic Missile Sarmat into service. US to Send Depleted Uranium Ammo to Kiev
In the event that Moscow actually launched one of its Sarmat hypersonic missiles, capable of carrying up to 10 nuclear warheads capable of hitting as many different targets kilometers away from each other, NATO's response could be nothing or almost nothing.
Certainly the USA and the United Kingdom, far from Russia but not far enough for the Admiral Gorshkov frigate which is now parked in the Mediterranean Sea and is already equipped with the Zircon atomic missile, would hardly react directly with their warheads to avoid reprisals. The same goes for Germany. While Italy could be forced to do so, as it is the country that hosts the largest number of American nuclear missiles at Aviano and other NATO bases.
200 US Marines deployed to "Nuclear" Aviano Air Base in Italy for Integrate Training with the F/A-18 Hornets alongside the F-16 Fighting Falcons
I can't even imagine what could happen in Rome or Naples. Easy target of the Zircon that wanders in the Mediterranean basin.
Fabio Giuseppe Carlo Carisio
© COPYRIGHT GOSPA NEWS
prohibition of reproduction without authorization
follow Fabio Carisio on Twitter
follow Gospa News on Telegram
---
Articles by Russia Today
Britain sends warplanes to Black Sea
Britain has dispatched military planes to the Black sea, claiming they will 'protect' grain ships coming from Ukraine, amid uncertainty over the UN-backed deal to provide a safe passage for the exports of agricultural produce after it was suspended by Russia.
"We will use our intelligence, surveillance, and reconnaissance to monitor Russian activity in the Black Sea, call out Russia if we see warning signs that they are preparing attacks on civilian shipping or infrastructure," the UK government said in a statement on Friday.
The aircraft will reportedly monitor grain ships, the UK government has said
"As part of these surveillance operations, RAF aircraft are conducting flights over the area to deter Russia from carrying out illegal strikes against civilian vessels transporting grain," the statement read.
The Russian Defense Ministry warned earlier that all vessels entering Ukrainian ports would be "treated as potential deliveries of military cargo."
Russian Experts: "Ukraine used Black Sea Grain Corridor for Weapons Smuggling, Terror Attacks". Stop and Warning to all Kiev Vessels
Moscow suspended the grain deal in July, arguing that Western countries had failed to uphold their end of the bargain by not removing obstacles to the shipment of Russian agricultural produce and fertilizers. Although Western sanctions do not target such exports directly, Russian officials said restrictions on their country's banking sphere and logistics effectively hamper the deliveries of Russian goods.
Russian President Vladimir Putin said after a meeting with his Turkish counterpart, Recep Tayyip Erdogan, on Monday that Moscow would immediately return to the deal once its demands are met. Erdogan told reporters that consultations with the UN were underway in hopes of reviving the arrangement.
Traces of Explosives Found in Grain Ship bound for Rostov-on-Don by Russian FSB
Reuters reported on Friday that Rosselkhozbank, Russia's main agricultural lender, might be allowed to gain access to the SWIFT international banking system in the near future. Top Russian banks were removed from SWIFT last year as part of sanctions placed on Moscow over its military operation in Ukraine.
Originally published by Russia Today
---
US finds 'surprise' ATACMS missiles for Ukraine
The US will likely provide Ukraine with long-range ATACMS missiles after finding a surplus in the Pentagon's inventory, two anonymous officials told ABC News on Friday. Kiev has been demanding these missiles for more than a year, but the US has thus far held off for fear of instigating a wider conflict with Russia.
"They are coming," one of the officials told ABC, while the other said that their transfer was still "on the table," and would be subject to the final approval of US President Joe Biden.
WEAPONS LOBBY – 8. American Armaments Sales in Europe Booming thanks to the War in Ukraine: "US Colony after Nato Coup"
Utilized by American forces in the Gulf and Iraq Wars, the MGM-140 Army Tactical Missile System has a range of up to 300 kilometers (190 miles) and can be fired from the M270 MLRS and M142 HIMARS platforms, which the US and UK have already sent to Ukraine.
Officials in Washington previously argued that sending long-range weapons to Kiev could provoke WW3
The ATACMS' range would allow Ukrainian forces to strike targets deeper behind Russia's borders, including in Crimea. For this reason, the US has turned down Ukrainian requests for the missiles since last year, with National Security Advisor Jake Sullivan telling reporters last July that "while a key goal of the United States is to… support and defend Ukraine, another key goal is to ensure that we do not end up in a circumstance where we are heading down the road towards a third world war."
150 US Nuclear Weapons in Europe but Moscow Holds more Atomic Warheads in the World and the New Powerful Russian Sarmat ICBM
White House and Pentagon officials also claimed that the US had too few of the missiles in its stockpiles to spare.
However, both officials told ABC News that "the US has found it has more ATACMS in its inventory than originally assessed," in the network's words. ABC described this discovery as "surprising." While the quantity and condition of these missiles is unclear, the White House has also reportedly accepted their use to target Crimea.
CIA-GATE – 4. Bulgarian Tea Party: How US Intelligence Supplies Ukraine with White Phosphorus
"I think specific targets in Crimea would be command and control, logistics hubs – especially ammunition facilities – and air bases," former CIA officer and Deputy Assistant Secretary of Defense Mick Mulroy told ABC.
However, Kiev has also used Western weapons to strike civilian targets in Crimea, including several bridges hit by British Storm Shadow cruise missiles this summer. The larger Crimean Bridge – which links the peninsula with the Russian mainland – has also been struck with a truck bomb and naval drones, with both attacks killing a combined five civilians.
UPDATE. Kramatorsk Restaurant's Massacre may be Caused by a Storm Shadow British Missile Intercepted by Russian Army
Moscow has repeatedly warned that the West's deliveries of more advanced weaponry to Ukraine could provoke a major escalation of hostilities. "Anything could happen. Nothing is ruled out amid such an intense proxy-standoff between NATO and Russia," Moscow's deputy envoy to the UN, Dmitry Polyansky, said on Friday.
Originally published by Russia Today
---
MAIN SOURCES
GOSPA NEWS – WEAPONS LOBBY DOSSIER
Odessa Ukrainian Centers that prepared Naval Drone Terrorist Attacks on Crimean Bridge Destroyed
Terrible Nuclear Zircon Missile in the Mediterranean Sea. Russian Frigate Admiral Gorshkov in Tartus Harbor
CHRIST: The Powerful Arm of Putin's Crusade vs Western Corruption of Weapons' Lobby, Big Pharma and Anti Christians LGBTQ
Putin: "Kiev unleashed War in 2014 after a Bloody Coup, Russia had right to help Donbass under UN Charter"
PUTIN THUNDERS: "Bloodbath on Consciousness of Kiev Regime". Russian Troops in Donbass for Recognized Republics
Catho-Dem Biden: Transgenders' Lover in Masonic Cult. Us President wants Them in Govt, Army and Female's Sports
(Visited 398 times, 23 visits today)