Moscow: "Ukraine using Terror Attacks to Distract from Counteroffensive Failure"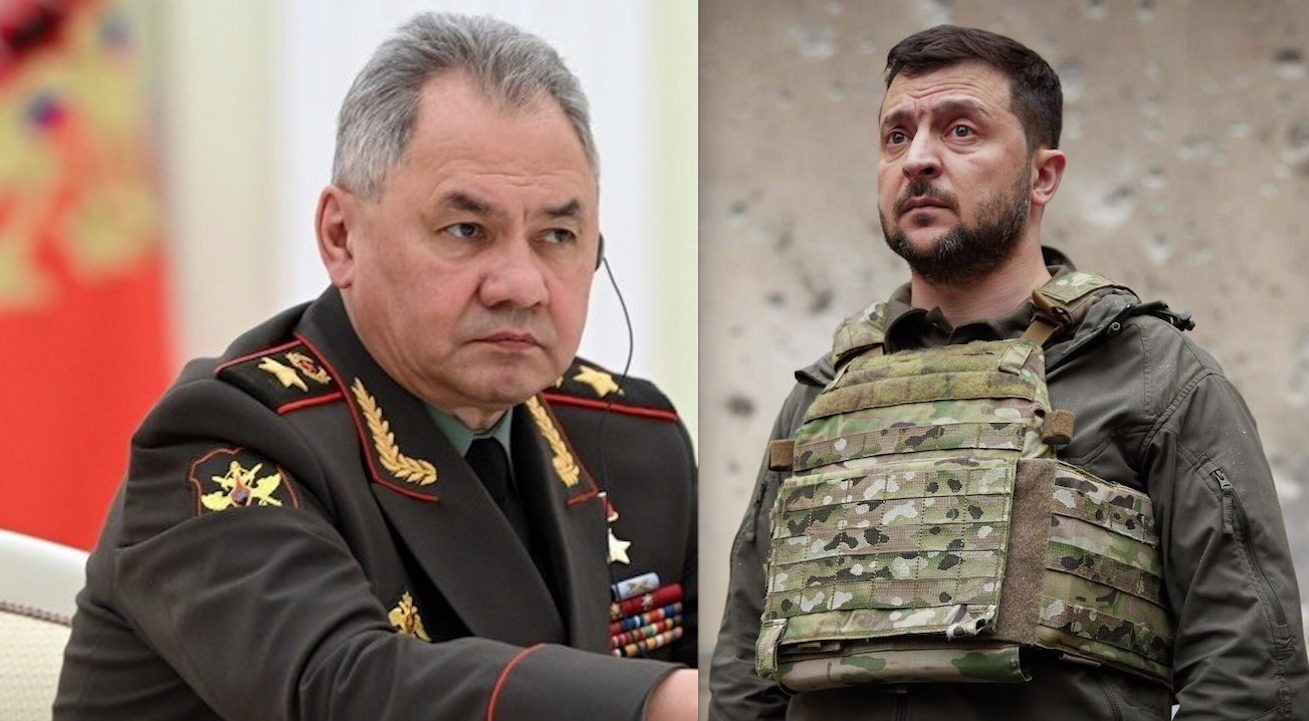 In the cover image Russian Defense Minister Sergey Shoigu and Ukrainian president Volodymyr Zelensky
Kremlin: "Ukrainian drone attacks on Moscow are acts of desperation"
Ukraine is launching "terrorist strikes" on Moscow and other civilian targets in Russia out of frustration over its failures on the battlefield, Kremlin press secretary Dmitry Peskov has said.
Early on Sunday, Kiev made another attempt to attack Moscow with UAVs, this time targeting Moscow City, the Russian capital's financial and business district. All incoming aircraft were shot down by air defenses, but their debris damaged the glass facades of two skyscrapers. One person was injured, according to emergency services.
"The Kiev regime isn't achieving any success. It's obvious that the counteroffensive isn't going as planned," Peskov told journalists on Monday.
Another Infernal Day of War for Ukraine: Kiev's Forces have lost 20 Tanks and over 1,000 Soldiers
The US and NATO have invested billions in preparing Ukraine for the counteroffensive, providing it with German-made Leopard 2 tanks, American Bradley fighting vehicles and other sophisticated weapons. But according to the Kremlin spokesman, this hardware is being "used inefficiently, wasted aimlessly, which also raises questions in the Western capitals and causes great discomfort among taxpayers in Western countries."
Additional measures have been taken to increase protection, Russia's defense minister has said
Ukraine's recent attacks on civilian infrastructure in Russian cities are meant to shift focus away from Kiev's failing counteroffensive, Russian Defense Minister Sergey Shoigu suggested on Monday.
"Against the backdrop of an unsuccessful so-called 'counteroffensive', the Kiev regime, with the support of Western sponsors, has focused on carrying out terrorist attacks on civilian infrastructure in cities and towns of the Russian Federation," Shoigu said at a meeting of top military officials.
"Considering the current situation, additional measures have been taken to increase protection against attacks from the air and sea," the minister announced. He added that the Russian military has also significantly increased the intensity of its own attacks on Ukrainian military facilities that provide support for such terrorist acts.
"Assassination attempt on Russian journalists shows Kiev's terrorist nature". The Villainous Western Weapon in the Zelensky's Hands vs Russia
Shoigu's statement comes amid increased drone attacks by Kiev on Russian cities, including Moscow, as well as other civilian infrastructure. The latest attack took place on Sunday, as two Ukrainian drones struck two office towers in the Russian capital's financial and business district, damaging the facade of the buildings and reportedly leaving one person injured.
Several more UAVs were also shot down or disabled throughout this month in Moscow's southwestern suburbs.
Kiev has also been using naval drones to launch attacks on Russian targets in the Black Sea, such as the Crimean Bridge, which was targeted on July 17 by two sea drones that inflicted considerable damage to the road section of the facility and killed two Russian civilians – a couple whose 14-year-old daughter was seriously wounded in the attack.
Putin's Fury after the New Terrorist Ukrainian Attack on Crimean Bridge with alleged UK Naval Drones REMUS
Russian officials have condemned the raids as "acts of terrorism" and have vowed to retaliate for the attacks.
Last Thursday, the Russian Defense Ministry announced that it had launched a barrage of long-range airstrikes on Ukraine's military infrastructure, targeting weapon stockpiles, ammo and fuel depots, airfields and command and control centers of the Ukrainian army. The Russian military has also ramped up missile and drone strikes on port infrastructure in southern Ukraine, as well as other military installations.
Odessa Ukrainian Centers that prepared Naval Drone Terrorist Attacks on Crimean Bridge Destroyed
Meanwhile, multiple reports have suggested that Kiev's heavily publicized counteroffensive, which launched in early June, has so far failed to make any significant progress and has only resulted in heavy personnel and equipment losses.
Ukraine's Western backers have reportedly grown concerned with the slow pace of the operation, while Kiev has continued to insist it needs more foreign military aid.
Russian Experts: "Ukraine used Black Sea Grain Corridor for Weapons Smuggling, Terror Attacks". Stop and Warning to all Kiev Vessels
Kiev lost nearly 21,000 troops in July alone, Sergey Shoigu has estimated
Russian forces have stopped Ukraine's much-hyped counteroffensive dead in its tracks, inflicting tens of thousands of casualties on Kiev's troops, Defense Minister Sergey Shoigu said on Monday.
The Scar of Zelensky & NWO on Peace. He Refuses the Pope's Mediation with Russia thanks to the Arms promised by the Italian President
Speaking at a conference attended by senior military commanders, Shoigu noted that Kiev "is desperately throwing new forces in a bid to storm our positions" but the Russian military thwarted all breakthrough attempts by relying on well-built and organized defenses, adding that the endurance of military personnel played an instrumental role in the success.
As a result, in July, Ukraine lost 20,824 service members and 2,227 units of military equipment, including 10 German-supplied Leopard tanks, 11 US-made Bradley infantry fighting vehicles, and 50 self-propelled guns from several Western countries, the minister stated.
WEAPONS LOBBY – 10. German Arms-Making Giant Flourishing amid Ukraine Crisis. But Berlin refused Supply of Cruise-Missiles
According to Shoigu, on July 26 and 27 alone Ukraine lost more than 400 service members and 31 tanks and other heavy weaponry near the settlement of Rabotino in Russia's Zaporozhye Region. Last week, a video surfaced on social media purporting to show a "graveyard" of Bradleys filmed at the same location.
"It is obvious that the Western-supplied weapons are failing to bring success on the battlefield and only prolong the military conflict," Shoigu said.
---
MAIN SOURCES
RUSSIA TODAY – Ukraine using terror attacks to distract from counteroffensive failure – Moscow
RUSSIA TODAY – Russian defense chief provides update on Ukrainian losses
GOSPA NEWS – WEAPONS LOBBY DOSSIER
UKRAINE WAR: The NATO'S BLOODY SHOW must Go On! Cluster Bombs from US and €500 million from EU in Military Aid:
"Odessa Cathedral hit by Ukraine Missile Defense". Kremlin denied Strikes on Civilian Targets – UPDATE
How Russia is Winning the Conflict protracted by NATO's Weapons with EU-US Citizens' Money. Last Ukrainian Military Ship Destroyed (video), UK Cruise Missiles Intercepted
WEAPONS LOBBY – 9. Norges Bank: Dirty Affairs of War among Stoltenberg, Gates, Nato & Italy. Oslo Business on Leopard Tanks for Ukraine
ANALYSIS OF A PLANNED CATASTROPHE. Too Many Clues Accuse Kiev on Dam Explosions. It had been Hit by Missiles US Himars or Ukraine Vilkha
(Visited 364 times, 1 visits today)