UK to ban Trans WoMen from Female Hospital Wards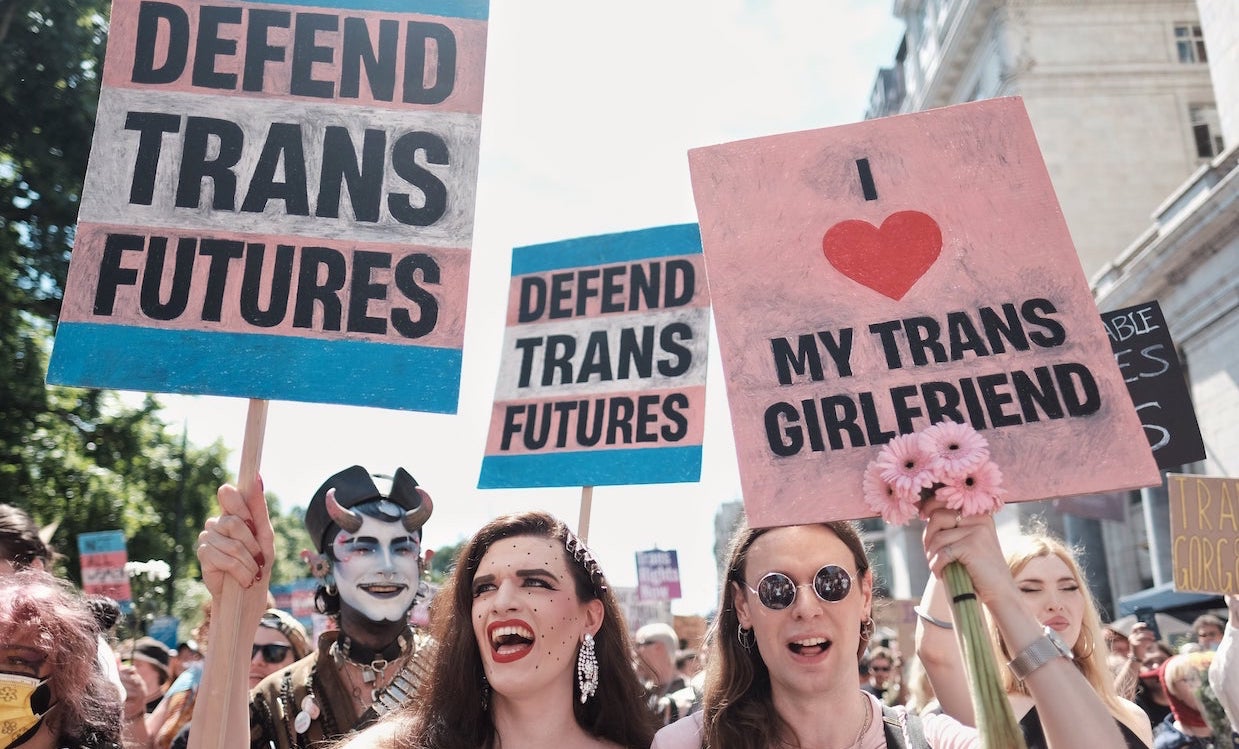 In the cover image the rally during London Trans Pride 2022
UK Health Secretary Steve Barclay will propose barring transgender women from female hospital wards, The Telegraph reported on Monday.
The newspaper said the proposals would be formally announced at the Conservative Party conference on Tuesday.
The measures would reportedly guarantee that patients have the right to be cared for in wards only shared by people of their own biological sex and to receive "intimate care" by doctors and nurses of the same sex.
The current NHS guidance allows for patients to be placed in wards on the basis of the gender they identify with. Barclay's plan would reportedly have trans patients housed in "separate accommodation."
Health Secretary Steve Barclay has called for "common-sense" policies in the NHS
"We need a common-sense approach to sex and equality issues in the NHS," Barclay said in a statement to The Telegraph on Monday. "And I can confirm that sex-specific language has now been fully restored to online health advice pages about cervical and ovarian cancer and the menopause."
Barclay added that he was seeking to protect "the privacy, dignity and safety of all patients." A source close to the health secretary was quoted as saying that Barclay was "fed up with this agenda and the damage it's causing, language like 'chestfeeding', talking about pregnant 'people' rather than women."
After Many Scandals NHS to close Tavistock Child Gender Identity Clinic
Maya Forstater, the executive director of the Sex Matters advocacy group, hailed the changes as "fantastic news," arguing that they would advance a "reality-based thinking about biological sex within the NHS."
Tory politicians have been urging the party to take a firmer stance against "political correctness" and the "woke agenda." Health Minister Will Quince said in August that organizations like Stonewall, Britain's largest LGBTQ charity, should not play a role in developing NHS policies.
Through the LGBTQ and Transgender Agenda Pedophilia is Being Normalized, Popularized, and Defended
"I would just gently say to [NHS] trusts that they shouldn't ever be putting ideology ahead of the views and concerns of patients, and indeed their own staff," Quince told Times Radio at the time.
Originally published by Russia Today
All links to previous Gospa News articles have been added aftermath for the relevance to the topics highlighted
---
LINKS MAIN SOURCES
Pope Francis Warned that "Transgenderism" is one of the "most Dangerous Ideological Colonizations"
CHRIST: The Powerful Arm of Putin's Crusade vs Western Corruption of Weapons' Lobby, Big Pharma and Anti Christians LGBTQ
Pedophilia on Facebook: Denounced 146 Groups. Orcs in Chat due to Hypersexualization among Minors Permitted by Zuckerberg
Ukrainian Military Spokesman Transgender FIRED after Threats to Russian Journalists
To Understand Israeli LGBTQ Propaganda we have to Learn Difference between Masonic-Zionism and Judaism
(Visited 165 times, 1 visits today)