TASS: "Ukrainian Troops Surrender en Masse using Special Volga Radio Frequency"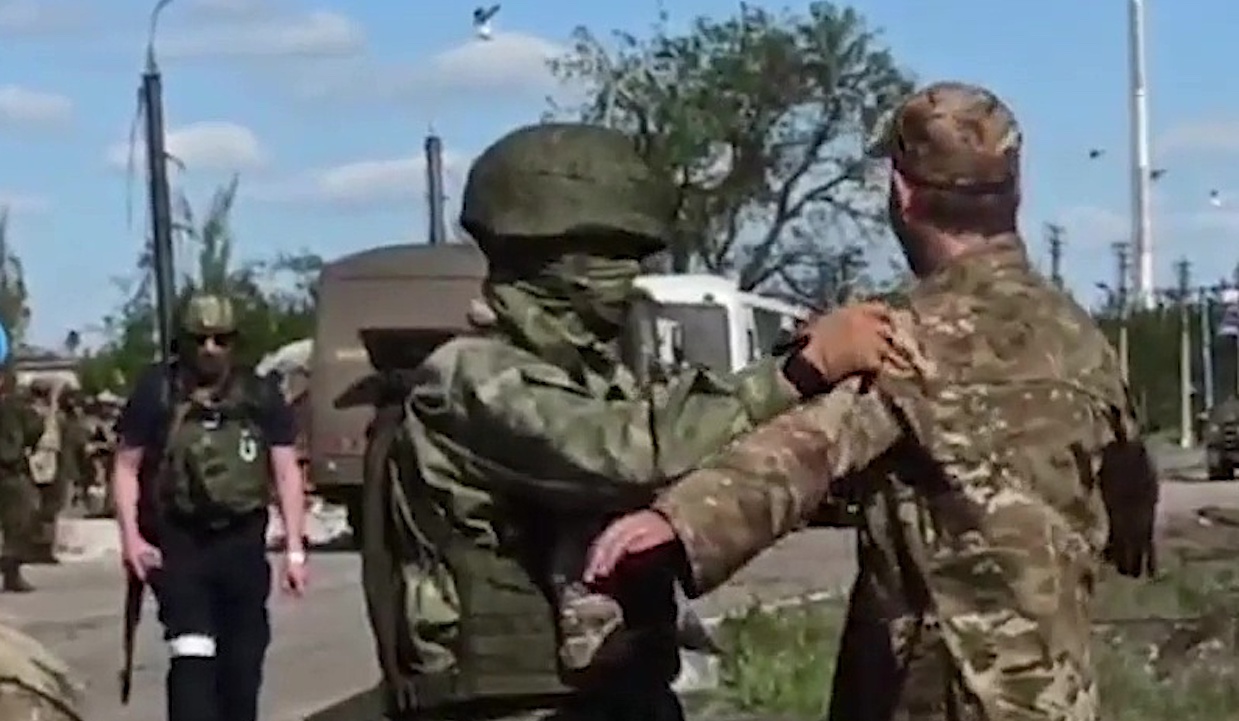 More than 10,000 of Kiev's forces have reportedly laid down arms in recent weeks
About 10,000 Ukrainian servicemen have already surrendered to Russian forces using the special 149.200 "Volga" radio frequency, which has been operating since mid-summer, operational services told TASS.
"Now more than 10,000 Ukrainian servicemen have already chosen life and used the 149.200 'Volga' frequency to surrender. The captives are being fed; they are being provided with all necessary medical care," the source said, noting that the dedicated radio frequency operates in all directions of the line of engagement in the special military operation zone.
He pointed out that the number of captives surrendering has increased recently. This is due, among other things, to the pro-Russian underground, whose activists spread information about the option of surrendering in the special military operation zone in those cities controlled by the Ukrainian armed forces.
UKRAINE SUICIDE "to Destroy every Russian". Massacre of the People in General Mobilization and Forced Recruitment (video)
"There have already been cases in [the frontline village of] Rabotino when Ukrainian fighters made use of the 149.200 'Volga' frequency to surrender in entire groups," the Union of Veterans of the Special Military Operation told TASS.
The 149.200 frequency, which can be accessed on any digital radio, is specially designated to be used by Ukrainian servicemen as a channel for communicating their intention to surrender to the Russian military, which can then locate them and take them captive safely, thus saving the Ukrainian servicemen from risking their lives crossing minefields to reach the Russian lines. The project has been operational since mid-summer.
Originally published by TASS Russian News Agency
All links to previous Gospa News investigations have been added aftermath for the ties with the topics highlighted
---
Kiev lost 17,000 troops in September – Moscow
The Ukrainian military continues to suffer heavy losses almost four months into its much-hyped counteroffensive, Russian Defense Minister Sergey Shoigu revealed at a meeting of ministry officials on Tuesday. Kiev has lost more than 17,000 servicemen this month alone, he claimed.
Ukraine has also parted with more than 2,700 pieces of military equipment over the same period, the minister added. The list of hardware destroyed by Russian forces includes seven US-made Bradley infantry fighting vehicles, two German-made Leopard tanks and one British-made Challenger tank, as well as 77 US-made M777 artillery pieces and 51 self-propelled howitzers from Germany, France, Poland, and the US, according to Shoigu.
Kiev Troops forcibly recruit Kherson Residents amid Heavy Losses
Kiev does not disclose statistics about its military losses, but Ukrainian officials have acknowledged that the counteroffensive has been less successful than hoped, and is being waged at a serious cost to the army. Ukraine's Western backers have also become increasingly skeptical about the prospects for the operation.
The number of Ukrainian servicemen killed since the counteroffensive began has now surpassed 83,000,
According to Shoigu, Ukrainian forces have still failed to achieve any major successes on the battlefield despite the heavy losses. Kiev launched its counteroffensive in early June, but according to Moscow it has failed to make any tangible gains since it began.
In early September, Shoigu said that Ukraine had lost more than 66,000 troops and over 7,600 pieces of heavy equipment since the start of the operation. The new update brings these figures to 83,000 and 10,300, respectively.
"Kiev Hid Its Dead Soldiers in the Ravines". Exclusive Video in which Ukrainian POW Unveils Zelensky Crimes
Last week, the Washington Post reported that Kiev was suffering particularly heavy losses of armor on the Zaporozhye front, adding that Russian forces had destroyed multiple German Marder and US Stryker infantry fighting vehicles.
originally published by Russia Today
All links to previous Gospa News investigations have been added aftermath for the ties with the topics highlighted
---
GOSPA NEWS – WEAPONS LOBBY DOSSIER
Ukraine loses over 1,100 Troops near Donetsk in a week. Depleted Uranium Stocks Wiped. Aerial Tension Russia-US over Barents Sea
"Western Empire of Lies is triggering New Wars". Russian Minister said before UN
Kiev's Forces Shelled a Detention Center in Donbass because "the Nazi began to Testify on War Crimes". 53 Azov POWs Killed
Russian Orthodox Church Christian Priests Persecuted: Zelensky's Nazi-Zionist Shoah spreads across NATO European Countries
Mariupol Freed from the Zelensky's Nazis Satanists. Putin conquers the Military Target and Shows the True Face of the Kiev Partisans (video)
(Visited 439 times, 1 visits today)