WUHAN-GATES – 66. Texas AG to Investigate over Big Pharmas COVID Vaccine Safety and Gain-of-Function Research (Funded by Fauci)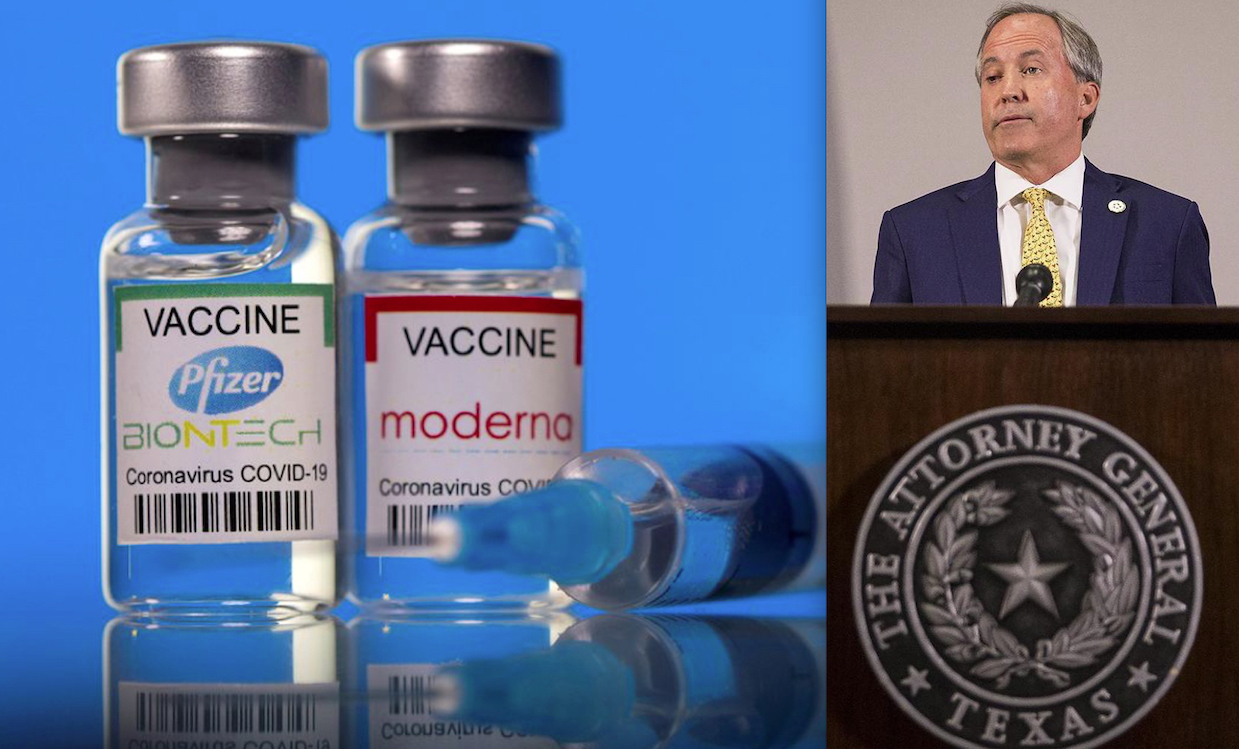 Introduction by Fabio Giuseppe Carlo Carisio
"If any company illegally took advantage of consumers during this period or compromised people's safety to increase their profits, they will be held responsible"
Texas Attorney General Ken Paxton made these statements in announcing that he had launched an investigation into whether Pfizer, Moderna and Johnson & Johnson committed fraud related to the COVID-19 vaccines.
Paxton will investigate whether the companies misrepresented the efficacy and safety of the vaccines and manipulated vaccine trial data, in violation of the state's Deceptive Trade Practices Act.
Brain Damages after COVID mRNA Vaccines: Pfizer Knew of 44,000 Injured since 2020! Study confirms Alert already launched by CDC and FDA
He also will investigate whether the pharmaceutical giants engaged in gain-of-function research and misled the public about it.
Obviously the name of the former White House emergency Covid adviser Anthony Fauci is not mentioned but in the USA even the stones know that it was he who financed the dangerous experiments…
The Courageous Action by an Attorney General Despite his sponsored by Pfizer
It is a courageous action by the magistrate who in the past was sponsored by Pfizer in his electoral campaign for reconfirmation. He received only a small sum of $5,000 reported in the 2020 PAC of the New York pharmaceutical company Pfizer.
The Political Action Committee is a US body that collects funds for political candidates, which also include Attorneys General, being elected by popular suffrage like judges in the majority of States (39).
It should be remembered that the New York Big Pharma through the 2020 PAC has exerted strong psychological pressure on the magistrates as it has donated the astronomical sum of $1,050,000.00 to the Conference of Western Attorneys General (CWAG) of California, which over time has become the most important assembly of legal and judicial address of the Attorneys General of the United States of America.
BLACKROCK "KILLED" CARLSON FOR VACCINES & WEAPONS BUSINESS. The Fund of WEF's Zionist King owns Big Part of Fox News
This is why Paxton's initiative appears truly disruptive and differs from the similar investigation in Florida as this was initiated by Governor Ron DeSantis who asked for the establishment of a Grand Jury, later confirmed by the State Supreme Court.
The Investigations on Gain-of-Function Research: Funded by Fauci
But the action also takes on a double political connotation that can be seen as an attempt to breach the Deep State stronghold (i.e. the international occult potentate also known as the New World Order according to the denomination relaunched by George Soros) that for decades financed and legitimized Anthony Fauci's dangerous experiments with Gain-of-Function (GOF) research in the University of North Carolina, in the Wuhan Institute of Virology and in collaboration with the military agency DARPA with the pharmaceutical company Moderna.
GOF is a technique for enhancing the viral load of a virus conducted for health or military purposes and therefore falling within the "DURC (Dual-use research of concern)" provisions as it can be used both to produce a vaccine and to build a bacteriological weapon.
WUHAN-GATES – 48. Moderna Vaccine Patented 9 Months Before Pandemic. Thanks to the Fauci-Baric' Manmade SARS Viruses
According to the conclusions of the Senate Health Commission, SARS-Cov-2 was created in China with the complicity of the USA, which remains to be clarified.
The former director of the American CDC Robert Redfield testified before the US Congress claiming that there are no doubts about the funding of GOF research by Dr. Fauci, until December 2022 director of the National Institute of Allergy and Infectious Diseases (NIAID) and now a consultant of the Biotecnopolo of Siena in Tuscany (Italy) which has strong ties with the London Big Pharma GSK (partner of Pfizer).
SIENA-GATES – 1. BIOTECNOPOLO NELLA RETE DI BILL III & BIG PHARMA. Fauci, nei Guai negli USA per il SARS-Cov-2 Artificiale, farà Esperimenti sugli Italiani
In many of the investigations of the Wuhan-Gates cycle on the pandemic planned for decades by Bill Gates and Fauci, with the complicity of Metabiota and the Rockefeller Foundation in the Global Virome Project (GVP) presented at the Bellagio forum, Italy, we have in fact highlighted that the experiments conducted on SARS coronaviruses by Fauci obtained the exemption from the 2014 Obama moratorium on the use of the dangerous Gain-of-Function technique.
The fact that today the Texas Attorney General wants to investigate the use of GOF by Big Pharma is therefore explosive news as it could be the judicial network that brings to light Fauci's shady intrigues with the pharmaceutical companies and their government sponsors or private.
WUHAN-GATES – 62. MANMADE SARS-Cov-2 FOR GOLDEN VACCINES: Metabiota, CIA, Biden, Gates, Rockefeller intrigued in Ukraine, China and Italy
Paxton was one of the closest and most faithful magistrates to former President Donald Trump, now a candidate for the US 2024 presidential election.
So this action could also indicate a precise "political" will to rebel against the Deep State which, by admission of a former CIA director, he impeached Trump with the UkraineGate while knowing the macroscopic responsibilities of his opponent Joseph Biden's family in every business in Kiev, from the biolaboratories managed by Metabiota to the Burisma gas energy industry.
WUHAN-GATES – 50. The Italian Boss of Obama's Coronavirus. Ukraine Laboratories Funded by former CIA Director Leon Panetta
Finally, the Texas attorney general will also investigate the efficacy and safety of mRNA gene serums against Covid as the Florida Surgeon General is already doing, who has revealed the very serious dangers of adverse reactions of these pharmacological preparations built with brand new and never tested biotechnologies.
In Italy, on the other hand, the Parliamentary Commission of Inquiry has not yet been definitively approved which, according to the latest draft available, should also deal with adverse reactions to vaccines as the least of its tasks…
Fabio Giuseppe Carlo Carisio
© COPYRIGHT GOSPA NEWS
prohibition of reproduction without authorization
follow Gospa News on Telegram
---
Texas to Investigate COVID Vaccine Makers Over Gain-of-Function Research, False Efficacy Claims
Texas Attorney General Ken Paxton today launched an investigation into whether Pfizer, Moderna and Johnson & Johnson engaged in gain-of-function research and misled the public about doing so, and whether the companies misrepresented the efficacy of their COVID-19 vaccines, in violation of the Texas Deceptive Trade Practices Act.
by Brenda Baletti, Ph.D. – originally published originally published by The Defender
All links to Gospa News articles have been added aftermath.
Texas Attorney General Ken Paxton today (may, 1, 2023) launched an investigation into whether Pfizer, Moderna and Johnson & Johnson committed fraud related to the COVID-19 vaccines.
Paxton will investigate whether the companies misrepresented the efficacy and safety of the vaccines and manipulated vaccine trial data, in violation of the state's Deceptive Trade Practices Act.
'No Doubt' Fauci Funded Gain-of-Function Research That Likely Led to Pandemic, Former CDC Director Tells Lawmakers
He also will investigate whether the pharmaceutical giants engaged in gain-of-function research and misled the public about it, The New York Post reported.
"If any company illegally took advantage of consumers during this period or compromised people's safety to increase their profits, they will be held responsible," Paxton said. "If public health policy was developed on the basis of flawed or misleading research, the public must know."
Paxton said Big Pharma had a "vested interest" in the success of its COVID-19 vaccines because they drove record profits. "This vested interest … combined with reports about the alarming side effects of vaccines, demands aggressive investigation," he said.
WUHAN-GATES – 65. US Senate Report Blames China for SARS-Cov-2 Manmade with HIV but also Admits the American Faults
In 2022 alone, Pfizer reaped profits of $31.4 billion on record sales of $100.3 billion. Sales from its COVID-19 vaccine and Paxlovid, used to treat COVID-19, totaled $56 billion — more than half the vaccine maker's annual revenue.
Moderna's Spikevax generated approximately $18.4 billion in revenue last year, up from $17.7 billion in 2021. Johnson & Johnson's first-quarter 2022 COVID-19 vaccine sales were only $457 million, but in 2021, its vaccine sales reached $2.4 billion.
Paxton also said that because mandates were dictated at the federal level, "This investigation into the scientific and ethical basis on which public health decisions were made is of major significance."
As part of the investigation, Paxton will demand the three companies provide documentation related to decision-making about pandemic interventions, "especially when a profit motive or political pressure may have compromised Americans' health and safety."
"Very High Risk of Stroke after Vaccines with Concurrent Covid". Alert by Atlanta's University study confirms the CDC-FDA one
The investigation could have implications for the immunity vaccine makers enjoy under the Public Readiness and Emergency Preparedness, or PREP Act, for producing vaccines under Emergency Use Authorization, Kim Mack Rosenberg, acting general counsel for Children's Health Defense, told The Defender.
She said: "I applaud the Texas attorney general investigating fraud in connection with COVID-19 shots".
"Because these injections are covered by the PREP Act and the Countermeasures Injury Compensation Program (CICP), with near blanket liability protection for manufacturers and significant restrictions and limitations on recovery for injuries, evidence of fraud or willful misconduct may be an avenue to justice for the many who have been injured by these products."
Vital CDC DATA: "Serious Adverse Events by mRNA COVID Vaccines 5.5 Times Higher than All Others in the US since 2009"
The PREP Act declaration for Medical Countermeasures Against COVID-19 shields manufacturers of COVID-19 pandemic countermeasures, such as vaccines or treatments, from liability for injuries resulting from those countermeasures.
It funnels vaccine injury claims into the CICP program, which is meant to compensate people with vaccine or other covered countermeasure-related injuries for expenses associated with their injury.
To date, the CICP has compensated only three of the more than 10,000 claims brought for COVID-19 countermeasure injuries. But the PREP Act does not immunize manufacturers from liability in the case of "willful misconduct."
That means if the Texas attorney general proves the companies engaged in willful misconduct, people injured by the vaccine may have other methods beyond the CICP available to them to seek compensation for their pain and suffering.
"The catastrophic effects of the pandemic and subsequent interventions forced on our country and citizens deserve intense scrutiny, and we are pursuing any hint of wrongdoing to the fullest," Paxton said.
Florida grand jury investigating 'crimes and wrongdoings' related to COVID vaccine
In December 2022, Florida Gov. Ron DeSantis petitioned for a grand jury investigation into "crimes and wrongdoing committed against Floridians related to the COVID-19 vaccine."
"It is against the law to mislead and to misrepresent, particularly when you're talking about the efficacy of a drug," said DeSantis, whose petition seeks more information from pharmaceutical companies about the vaccines and potential side effects.
DeSantis argued that pharmaceutical companies had a financial interest in creating a climate in which people believed that getting a coronavirus vaccine would ensure they couldn't spread the virus to others.
"The Biden administration and pharmaceutical corporations continue to push widespread distribution of mRNA vaccines on the public, including children as young as 6 months old, through relentless propaganda while ignoring real-life adverse events," DeSantis' office said in a statementin December.
The Florida Supreme Court granted his request on Dec. 22, 2022, committing to convening a grand jury to investigate any wrongdoing with respect to the COVID-19 vaccines. The grand jury will meet for one year.
Shock Warnings by Physicians inside the Florida Governor DeSantis' Investigation on Adverse Events of the mRNA Covid-19 Vaccines
In the meantime, DeSantis also convened a Public Health Integrity Committee comprised of some of the top COVID-19 countermeasure experts, including Jay Bhattacharya, M.D., Ph.D, Martin Kulldorff, Ph.D. and Tracy Beth Høeg, M.D., Ph.D.
The committee will meet in May to examine "adverse events from mRNA vaccines," The New York Post reported, and it will also provide guidance to the Florida Department of Health.
Along with DeSantis, Florida Surgeon General Joseph Ladapo, M.D., Ph.D., has been vocal in his concerns about adverse events associated with the vaccines. He issued a health alert in Florida, warning residents about a "substantial increase" in reports of adverse events.
"Health Alert on mRNA COVID-19 Vaccine Safety" from Florida and State Surgeon General
He also petitioned the heads of the U.S. Food and Drug Administration and the Centers for Disease Control and Prevention to investigate the millions of adverse events that have been reported to VAERS.
He asked them to "promote transparency" with respect to the excess risk of adverse events associated with the mRNA COVID-19 vaccines and asked them to "promote transparency" among healthcare professionals "to accurately communicate the risks these vaccines pose," The Defender reported.
---
LINKS MAIN SOURCES
GOSPA NEWS – WUHAN-GATES DOSSIER
GOSPA NEWS – CORONA VIRUS REPORTS
DA PFIZER SOLDI PURE AI PROCURATORI USA! Lobbying da 1milione di Dollari alla Conference Attorneys General. Altri 8 a 1.842 Politici Bipartisan
WUHAN-GATES – 63. SARS-2 Geopolitical Bio-Weapon. US Energy Department Blames China but Hides Fauci, Darpa & Gates Role
UKRAINEGATE, CIA-DEEP STATE'S PLOT AGAINST TRUMP with two whistleblowers and Italian ties
(Visited 469 times, 4 visits today)