Florida Surgeon Accuses FDA and CDC: "Ongoing Decision to Ignore Many of the mRNA Covid-19 Vaccines' Risks".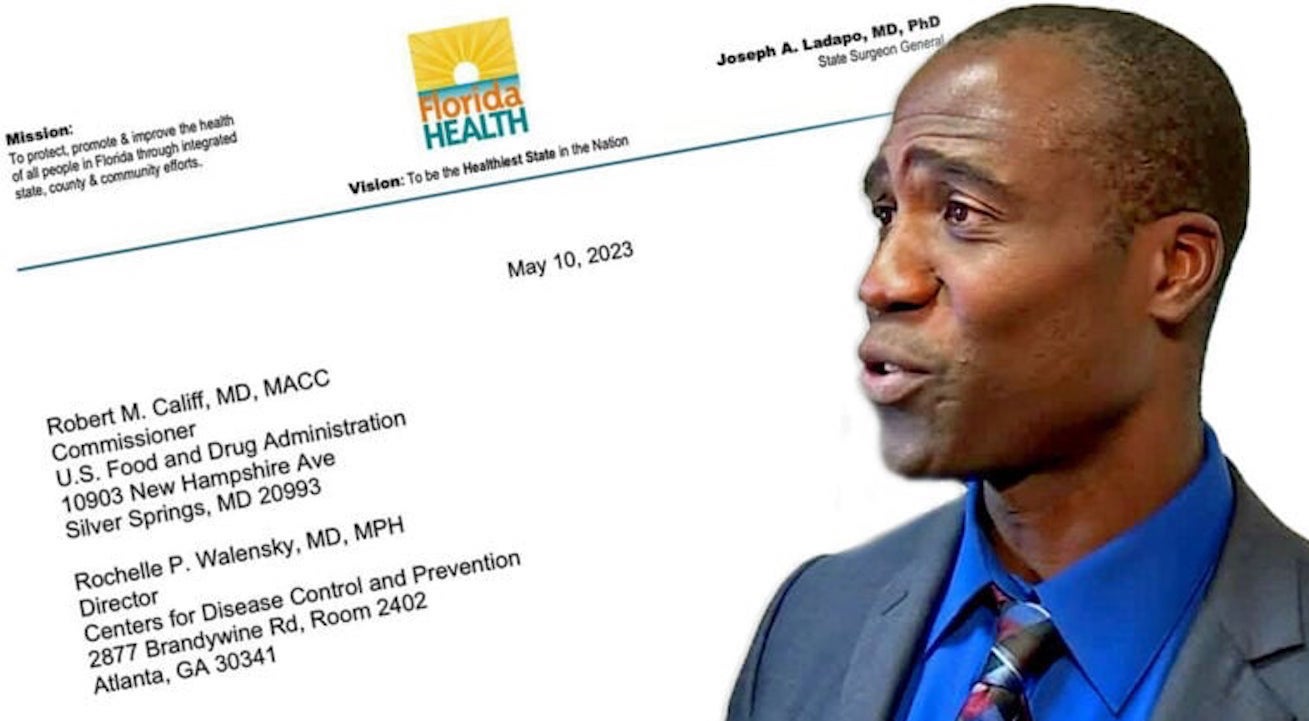 by Suzanne Burdick, Ph.D. – Originally published by The Defender – Children's Health Defense
All links to Gospa News articles have been added aftermath.
Claiming that a "lack of transparency only harms Americans' faith in science," Florida Surgeon General Joseph Ladapo, M.D., Ph.D., this week called on the nation's top public health officials to "publicly" explain 12 key issues related to the COVID-19 vaccine rollout.
"A Deep Distrust in the American Health Care System"
In a letter sent Wednesday to U.S. Food and Drug Administration (FDA) Commissioner Robert Califf and Centers for Disease Control and Prevention (CDC) Director Rochelle Walensky, Ladapo said:
"Your ongoing decision to ignore many of the risks associated with mRNA COVID-19 vaccines alongside your efforts to manipulate the public into thinking they are harmless, have resulted in a deep distrust in the American health care system".
Shock Warnings by Physicians inside the Florida Governor DeSantis' Investigation on Adverse Events of the mRNA Covid-19 Vaccines
"Beginning with Operation Warp Speed, and possibly to be continued with an additional $5 billion investment in Project NextGen, the federal government has relentlessly forced a premature vaccine into the arms of the American people with little to no concern for the serious adverse ramifications."
Ladapo said the "data are unequivocal: After the COVID-19 vaccine rollout, the Vaccine Adverse Events Reporting System (VAERS) reporting increased by 1,700%, including a 4,400% increase in life-threatening conditions."
WUHAN-GATES – 66. Texas AG to Investigate over Big Pharmas COVID Vaccine Safety and Gain-of-Function Research (Funded by Fauci)
Ladapo listed 12 points of data and demanded the health officials "publicly" explain their decision-making process around those data.
Florida Surgeon General Ladapo on 12 key issues related to the COVID-19 vaccine rollout
Commenting on the letter, blogger Igor Chudov said the surgeon general asks "all the right questions" about COVID-19 vaccines — and exposes the FDA and the CDC as "charlatans" engaging in "medical quackery."
Chudov summarized Ladapo's questions:
INFANTICIDE! 4,739 Dead Babies in VAERS Following COVID-19 Shots Injected Into Pregnant and Child-Bearing Aged Women
Wednesday's letter is the latest in an ongoing exchange between Florida's surgeon general and the agencies' top officials that began when Ladapo, in a Feb. 15 letter, expressed concern about the adverse effects of mRNA COVID-19 vaccines and asked FDA and CDC officials for greater transparency in publicly acknowledging these effects.
The letter corresponded with a health alert Ladapo issued that same day to the Florida healthcare sector and the public warning that mRNA COVID-19 vaccines caused a "substantial increase" in reports of adverse events in Florida.
"Health Alert on mRNA COVID-19 Vaccine Safety" from Florida and State Surgeon General
The letter and health alert summarized the substantial increase in VAERS reports in Florida after the COVID-19 vaccine rollout, including for life-threatening conditions.
On March 10, Califf and Walensky responded to the letter and alert by saying their agencies were monitoring data for potential risks and that Ladapo had focused his letter on "rare" events. According to Wall Street Journal writer Allysia Finley, Califf and Walenky in their response resorted to "personal attacks" on Ladapo and "ignored the science" he presented.
On Wednesday, Ladapo fired back at Califf and Walensky in a tweet:
In October 2022, Florida became the first state to recommend against mRNA COVID-19 vaccination of children and men up to age 39.
by Suzanne Burdick, Ph.D. – Originally published by The Defender – Children's Health Defense
Suzanne Burdick, Ph.D., is a reporter and researcher for The Defender based in Fairfield, Iowa. She holds a Ph.D. in Communication Studies from the University of Texas at Austin (2021), and a master's degree in communication and leadership from Gonzaga University (2015). Her scholarship has been published in Health Communication. She has taught at various academic institutions in the United States and is fluent in Spanish.
---
EXCLUSIVE: Pfizer Paper confirms Genic Experiments on 5yo Kids. "Myocarditis Risks by Vaccines, Little Data… We"ll Study After FDA Authorization"
CDC Adds Dangerous Bivalent COVID Shots to their Childhood Immunization Schedule despite Many Lethal Adverse Reactions
Criminal FDA and CDC Ignore Law and Approve New COVID Vaccine Boosters with ZERO Testing on Humans: On Mice Only
Vital CDC DATA: "Serious Adverse Events by mRNA COVID Vaccines 5.5 Times Higher than All Others in the US since 2009"
'Finally' The Lancet Acknowledges Natural Immunity Superior to mRNA COVID Vaccines
(Visited 284 times, 1 visits today)