Even UN Surrenders leaving Gaza Strip Alone! Largest Hospitals closed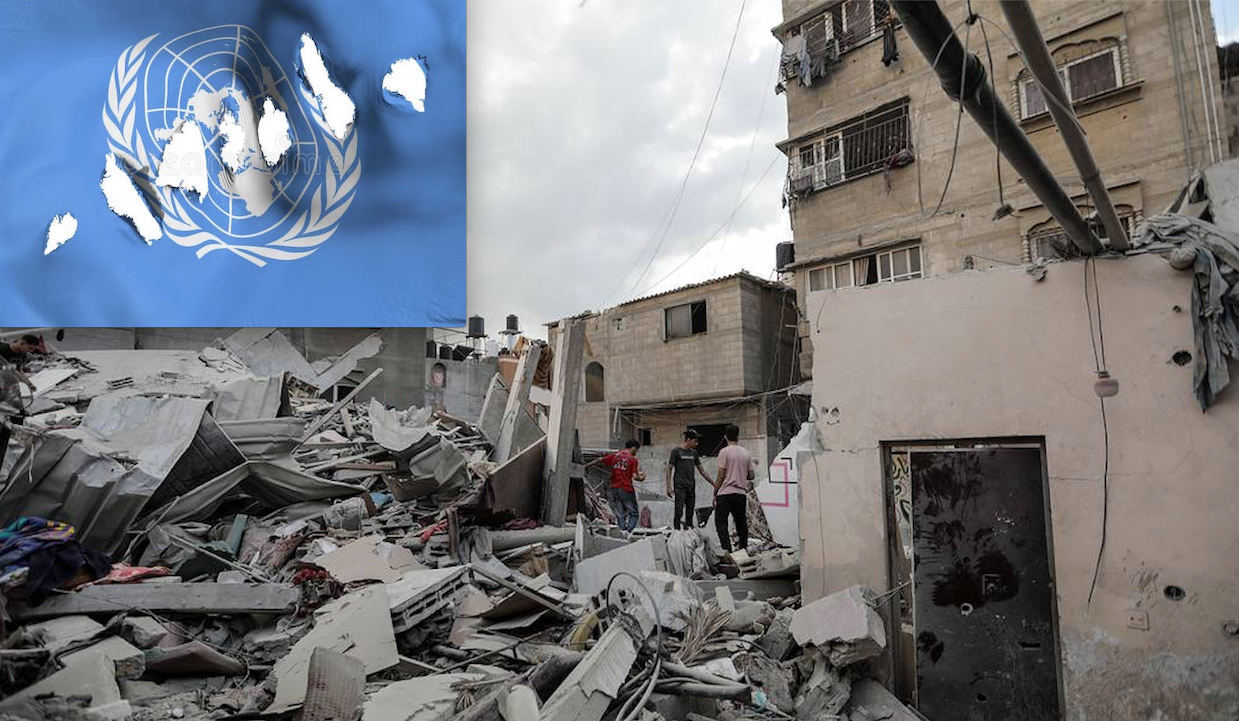 by Gospa News Editorial Staff
UN agencies withdraw from Gaza Strip
The UN Relief and Works Agency for Palestine Refugees (UNRWA) and the World Health Organization (UNRWA) have withdrawn from Gaza, Al Arabiya reports, citing the Gaza Health Ministry.
"The UNRWA and the WHO are no longer providing services in the Gaza Strip," Gaza Health Ministry Director General Munir al-Boursh told the TV channel. "The UN agencies have given in to Israel and left the Gaza Strip," he added.
The news has been relaunched by TASS Russian News Agency.
According to the health official, the number of people killed in Israeli strikes has risen to 12,000, and about 30,000 have suffered wounds.
The Plotted GENOCIDE: Leaked Israeli Plan to Ethnically cleanse Gaza
Tensions in the Middle East flared up again after Hamas militants infiltrated Israel from the Gaza Strip on October 7. The Palestinian movement described its attack as a response to the actions of Israeli authorities against the Al-Aqsa Mosque on Jerusalem's Temple Mount. Israel announced a total blockade of Gaza and started carrying out strikes on the Palestinian enclave, as well as on certain areas in Lebanon and Syria. Clashes are also taking place in the West Bank.
On Monday, Israeli Defense Minister Yoav Gallant said that the Hamas movement had lost control of Gaza.
GENOCIDIO DI GAZA. Bimbi in Fosse Comuni come nei Campi SS. Turchia: "Netanyahu come Hitler". L'ONU lascia Soli i Palestinesi
UN lowers flags, holds minute of silence for 101 staff members killed in Gaza
Flags flew at half-mast at UN facilities across the globe Monday including at the body's New York headquarters, as staff stood in silent tribute to the more than 100 colleagues killed in Gaza during the Israel-Hamas war.
The blue and white United Nations flag was lowered at 9:30 am local time at offices in Bangkok, Tokyo and Beijing, with other UN venues following suit.
Secretary-General Antonio Guterres led UN personnel in observing a minute of silence at UN headquarters when the clock struck 9:30 am in New York.
Zionist Regime threatens Even the Red Cross with an Ultimatum in Gaza. WHO chief says 237 Attacks on Healthcare
"Since the start of this conflict, more than 100 UNRWA staff have lost their lives — the highest number of UN aid workers killed in a conflict in such a short time," he posted on X, formerly Twitter, along with a photograph of senior UN officials somberly standing in silence.
The two largest Hospitals in Gaza have officially closed
Newborn babies wrapped in blankets and lined up on a bed after being removed from incubators have become the defining image showing the Israeli siege of hospitals in the Gaza Strip.
«At least 32 patients, including six premature babies, have died at the al-Shifa Hospital in the last three days, Palestinian Health Ministry spokesperson Ashraf al-Qudra said Monday, as Gaza's largest medical facility was forced to shut down due to lack of fuel and medicine» reported Al Jazeera.
WHO Chief: "Child killed every 10 minutes in Gaza". Even Babies in the Incubators
More than 100 bodies are decomposing inside the hospital, waiting to be buried.
"Regrettably, the hospital is not functioning as a hospital anymore. The world cannot stand silent while hospitals, which should be safe havens, are transformed into scenes of death, devastation, and despair," said Tedros Adhanom Ghebreyesus, the director-general of the World Health Organization (WHO).
Israel imposed a total siege of the territory – home to 2.3 million people – banning fuel, food, electricity and water after launching its military offensive on October 7. Israeli action came in the wake of a Hamas attack that claimed more than 1,200 lives in Israel.
Gaza: SATAN'S HOLOCAUST. No More Words, Images are Enough! A Minute of Silence to Pray. WARNING! Chilling Video
All hospitals in northern Gaza are now "out of service", as relentless Israeli air strikes have killed more than 11,000 people, most of them women and children, triggering global calls for a ceasefire.
Thousands of people, including 650 patients and 500 health workers, are holed up inside the al-Shifa Hospital premises surrounded by Israeli forces.
Press TV: "US Hellfire missiles used to strike Gaza Al-Shifa Hospital"
The Israeli military is calling on people to leave the hospital.
Al Jazeera's Hani Mahmoud, reporting from Khan Younis, said the "Israeli military is calling on patients to step out of the hospital with their hands above their heads."
"But some of them need wheelchairs while others are disabled, hence cannot walk," he said. "It's hard to comprehend these are the demands of the Israeli military, while at the same time [it is] playing nice with the media, telling journalists 'we are offering a safe corridor.'"
GAZA HOSPITAL: HORRENDOUS WAR CRIME. Hundreds Killed (video)! Bibi Hit Muslims and Christians at Once
Hospitals in Gaza have repeatedly come under fire as Israeli forces have accused Hamas fighters of using them for military purposes.
The al-Ahli Arab Hospital, located in Gaza City, was hit by an explosion last month. Nearly 500 people were killed in the attack, whose origin remains unclear until now. Palestinian officials said an Israeli missile was responsible, while Israel claimed the explosion was caused by the misfiring of rockets by Palestinian armed groups.
Israel claims Hamas operates a command centre from under al-Shifa hospital. But Hamas and hospital officials have denied that assertion, according to Al Jazeera.
---
(Visited 103 times, 1 visits today)