WUHAN-GATES – 37. Italian Vaccine Breakdown! Court of Auditors stopped Public Funds to Company due to Anomalies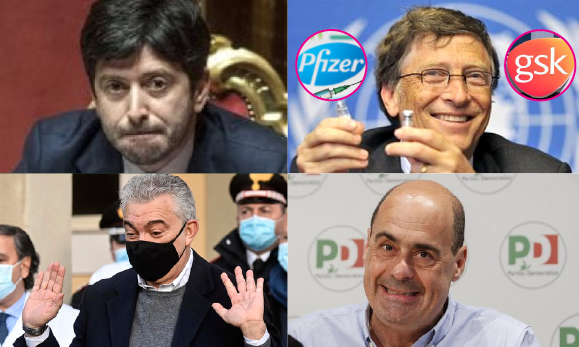 In the cover photo: above Roberto Speranza and Bill Gates, below Domenico Arcuri and Nicola Zingaretti, two of the public financiers of the Reithera vaccine
by Fabio Giuseppe Carlo Carisio
Once again the Gospa News inquiries have hit the mark. There is something anomalous in the financial operation with which the Italian government wanted to contribute to the vaccine of the ReiTHera company. On January 13, 2021, the report n. 29 of the WuhanGates cycle highlighted the "gray areas" of the bio-research company of Castel Romano (Rome), the sole Srl, a LTD or limited liability company that therefore responds for any damages only with the paid-up capital, to take on the challenge for the production of a vaccine.
Even the Report transmission, a few weeks earlier, had shone the spotlight on the new antidote, demonstrating an international conflict of interest because ReiTHera, operating as an Italian team, is actually controlled by a Swiss financial company in which the London-based pharmaceutical multinational would have clear interests GlaxoSmithKline.
WUHAN-GATES – 29. Pandemic Great Business: In Gates' Talons Italian Vaccine Too! As the other ones owned by GSK
GSK, in fact, is also the majority shareholder of the Pfizer commercial network (68% in Italy) and is therefore profiting from the messenger RNA anti-Covid gene therapy produced by the latter with the German BioNTech, in the Comirnaty serum project orchestrated thanks to a speculation by world vaccine emperor Bill Gates.
Now the Court of Auditors has ruled that there is something anomalous in the state contribution decided in January by the then Prime Minister Giuseppe Conte and which has become a "flagship" in the immunization plan of Health Minister Roberto Speranza.
«The Court of Auditors stops the decree that activated the funds for the Roman biontech ReiThera, which will therefore not receive the 81 million promised by Invitalia last January. A preventive stop that effectively blocks the provision. "We are still waiting for the motivation", explain sources from the Ministry of Development, stressing that in the meantime the production plan goes ahead, "writes the ANSA news agency. (read more…)
(Visited 93 times, 1 visits today)